Color translucent head-up display based on a segmented Fourier hologram
Abstract
The paper presents the numerical and experimental results of reconstructing images from a spatially segmented Fourier hologram with additional carrier frequencies, acting as a translucent head-up display (HUD). Successful reconstructions of colorful images visible at the infinity were achieved. The design procedure is described and some limitations of the method are discussed, like the appearance of ghost images. Exemplary results from numerical and real experiments are given. In order to obtain color images three beams of primary colors were successfully utilized to create a color mixture.

Full text: PDF

References:
A. Ramsbottom, S. Sergeant, D. Sheel, "Holography for automotive head-up displays", Proc. SPIE 1667, 146-164 (1992).[CrossRef]
T. Matsumoto, S. Eguchi, F. Yamagishi, M. Nakashima, "Compact holographic head-up display", Proc. SPIE 2652, 341-344 (1996).[CrossRef]
J. Suszek, M. Makowski, M. Sypek, A. Siemion, A. Kolodziejczyk, "Angle-dependent encoding of multiple asymmetric symbols in a binary phase hologram with a spatial segmentation", Appl. Opt. 48, 270-275 (2009).[CrossRef]
R. W. Gerchberg, W. O. Saxton, Optik 35, 237-246 (1972).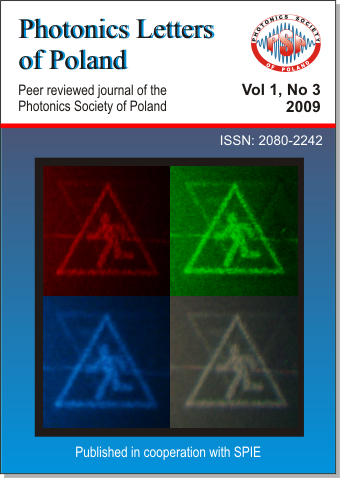 Downloads
How to Cite
[1]
J. Suszek, M. Sypek, A. Siemion, A. Fajst, M. Makowski, and A. Kolodziejczyk, "Color translucent head-up display based on a segmented Fourier hologram", Photonics Lett. Pol., vol. 1, no. 3, pp. pp. 106–108, Sep. 2009.
License
Authors retain copyright and grant the journal right of first publication with the work simultaneously licensed under a Creative Commons Attribution License that allows others to share the work with an acknowledgement of the work's authorship and initial publication in this journal. Authors are able to enter into separate, additional contractual arrangements for the non-exclusive distribution of the journal's published version of the work (e.g., post it to an institutional repository or publish it in a book), with an acknowledgement of its initial publication in this journal. Authors are permitted and encouraged to post their work online (e.g., in institutional repositories or on their website) prior to and during the submission process, as it can lead to productive exchanges, as well as earlier and greater citation of published work (See The Effect of Open Access).