Supercontinuum generation with microstructured fibers made of soft glass
Abstract
In this paper we report on the fabrication of a micro-structured fiber made of in-house synthesized silicate glass, with a nonlinear Kerr refractive index of 4.0 10-15 cm2/W. The fiber uses three rings of holes around a slightly elliptical core with dimensions 2.6 um x 3.4 um. It has a birefringence of about 10-3 at 1.5 um and zero dispersion wavelengths at 860 nm and 870 nm. Using this fiber we have demonstrated ultra broadband supercontinuum generation in the 400-1600 nm range for a 19.5 cm sample pumped with 100 fs pulses with central wavelength of 755 nm and energy of 2 nJ. The broadband generation of 200 nJ in the 650-850 nm range with pulse energy at the level of 0.57 nJ is also observed with the same structure.

Full Text: PDF

References:
R. Alfano, The Supercontinuum Laser Source: Fundamentals with Updated References, (Springer, 2005).
J. M. Dudley et al.,"Supercontinuum generation in photonic crystal fiber", Rev. Mod. Phys. 78. 1135-1184, (2006)[CrossRef]
A.Ferrando et al.,"Full-vector analysis of a realistic photonic crystal fiber", Opt. Lett. 24, 276 (1999)[CrossRef]
I.Kujawa et al., "Development of all-solid photonic crystal fibers", Proc. SPIE Vol. 6182, 61822Q (2006)[CrossRef]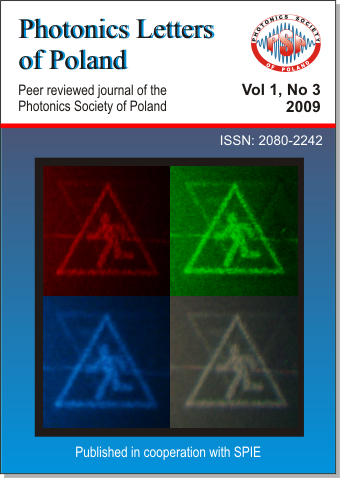 Downloads
How to Cite
[1]
R. Buczyński, "Supercontinuum generation with microstructured fibers made of soft glass", Photonics Lett. Pol., vol. 1, no. 3, pp. pp. 109–111, Sep. 2009.
License
Authors retain copyright and grant the journal right of first publication with the work simultaneously licensed under a Creative Commons Attribution License that allows others to share the work with an acknowledgement of the work's authorship and initial publication in this journal. Authors are able to enter into separate, additional contractual arrangements for the non-exclusive distribution of the journal's published version of the work (e.g., post it to an institutional repository or publish it in a book), with an acknowledgement of its initial publication in this journal. Authors are permitted and encouraged to post their work online (e.g., in institutional repositories or on their website) prior to and during the submission process, as it can lead to productive exchanges, as well as earlier and greater citation of published work (See The Effect of Open Access).