Temporal symmetric pulses and symmetry breaking in generalized saturable Kerr-like media
Abstract
In the paper the propagation of temporal pulses through generalized saturable nonlinear Kerr-like media is described analytically. The influence of symmetry conditions on relations between phase and amplitude is analyzed. These relations introduced into a canonical description of propagation enable a solution of the Euler-Lagrange equations. The accuracy of a canonical description is discussed.

Full Text: PDF

References:
K. Hizanidis, D. J. Frantzeskakis, C. Polymilis,"Exact travelling wave solutions for a generalized nonlinear Schrödinger equation", J. Phys. A, 29, 7687, (1996)[CrossRef]
F.G. Bass, V.V. Konotop, S.A. Puzenko,"Dark solitary waves in a generalized version of the nonlinear Schrödinger equation", Phys. Rev. A 46, 4185, (1992)[CrossRef]
J. Jasiński,"Bright solitons of generalized nonlinear Schrödinger equation", Opt. Comm. 172, 325, (1999)[CrossRef]
D. Anderson,"Variational approach to nonlinear pulse propagation in optical fibers", Phys. Rev. A, 27, 3135, (1983)[CrossRef]
C. Sulem, P.L. Sulem, The Nonlinear Schrödinger Equation: SelfFocusing and Wave Collapse, (New York, Springer-Verlag, 1999)
G.P. Agrawal, Lightwave technology:telecommunications systems, pp. 137-142, Wiley Interscience, Hoboken, 2005
H. Goldstein, C. Poole, J. Safko, Classical Mechanics, (Addison Wesley, San Francisco, 2000)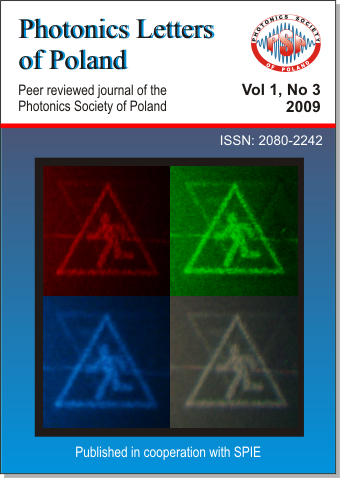 Downloads
How to Cite
[1]
J. Jasiński, "Temporal symmetric pulses and symmetry breaking in generalized saturable Kerr-like media", Photonics Lett. Pol., vol. 1, no. 3, pp. pp. 139–141, Sep. 2009.
License
Authors retain copyright and grant the journal right of first publication with the work simultaneously licensed under a Creative Commons Attribution License that allows others to share the work with an acknowledgement of the work's authorship and initial publication in this journal. Authors are able to enter into separate, additional contractual arrangements for the non-exclusive distribution of the journal's published version of the work (e.g., post it to an institutional repository or publish it in a book), with an acknowledgement of its initial publication in this journal. Authors are permitted and encouraged to post their work online (e.g., in institutional repositories or on their website) prior to and during the submission process, as it can lead to productive exchanges, as well as earlier and greater citation of published work (See The Effect of Open Access).