Potential Readings of Water Turbidity Values Based on Optical Sensors on Fish-Rearing Biofloc Media
Keywords:
optical sensor, bioflock, water turbidity
Abstract
An optical sensor-based water turbidity value reader has been made with an IR-emitting light source, a red LED, and a laser. The tool is made as a solution for reading water turbidity values that are impermeable to light-intensity disturbances. In principle, each light emitter will always shoot toward the sensor. The position of the transmitter and sensor is right between the flowing water pipes. When the water flows, the sensor will read the hardness value of the water (in analog value). Of course, pipes, sensors, transmitting sources, and electronic devices are protected by a casing that is impermeable to light intensity. The casing can be placed outside the pool to facilitate the process of tool maintenance. The tool was made in the SV-IPB University hardware laboratory and tested in the SV-IPB University fish pond from April 2022 to October 2022. Tests for all emitting light sources were carried out on aqueous media which has a flock of 6 ml/l. The results show that the three transmitter sources have analog readings in the same range, namely 2200 to 2300. However, of the three, the red LED transmitter sources have consistent reading values for three replications. Thus, the red LED light emitting source has good potential to be used as an optical sensor to read the value of water turbidity in biofloc media. This was proven again in measurements using variations in flock values (5 ml/l, 6 ml/l, 12 ml/l, and 17 ml/l), indicating that the higher the flock value, the greater the resistance value, so the output voltage value is higher. small. The output voltage value can be calculated from the analog value measured by the device.

Full Text: PDF

References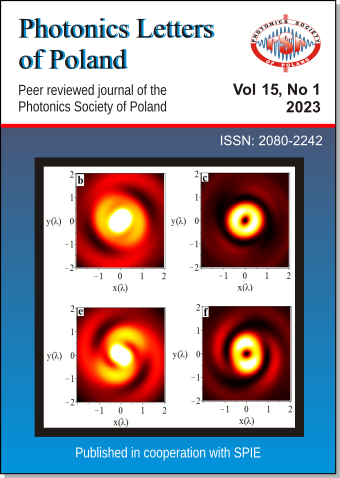 Downloads
How to Cite
[1]
R. Siskandar, "Potential Readings of Water Turbidity Values Based on Optical Sensors on Fish-Rearing Biofloc Media", Photonics Lett. Pol., vol. 15, no. 1, pp. 1–3, Apr. 2023.
License
Authors retain copyright and grant the journal right of first publication with the work simultaneously licensed under a Creative Commons Attribution License that allows others to share the work with an acknowledgement of the work's authorship and initial publication in this journal. Authors are able to enter into separate, additional contractual arrangements for the non-exclusive distribution of the journal's published version of the work (e.g., post it to an institutional repository or publish it in a book), with an acknowledgement of its initial publication in this journal. Authors are permitted and encouraged to post their work online (e.g., in institutional repositories or on their website) prior to and during the submission process, as it can lead to productive exchanges, as well as earlier and greater citation of published work (See The Effect of Open Access).