Scanning setup for the investigation of fluorescence beam spectra
Abstract
In this paper we describe the scanning setup for investigating refracted beam spectra from changed cancer tissues. A special mechanical construction enables us to position measurement sensors using step motors and a micrometric XY stage. A fiber sensor which has been made of special fiber that does not provide any self fluorescence has been used for the illumination and detection.

Full Text: PDF

References:
B. W. Chwirot, W. Jędrzejczyk, Luminescencja tkanek – nowe narzędzie wykrywania i lokalizacji nowotworów, Toruń (1995).
J. A. Kiernan, M. Wessendorf, Autofluorescence:Causes and cures, Toronto Western Research Institute, [DirectLink]
B. Valeur, Molecular fluorescence – Principles and applications, Wiley – VCH, (2001).
H. Zeng, A. McWillimas, S. Lam, "Optical spectroscopy and imaging for early lung cancer detection", Photodiagnosis and Photodynamic Therapy 1, 111-122 (2004). [CrossRef]
W. Denk, J. Strickler, W. W. Webb, "Two-Photon Laser Scanning fluorescence Microscopy", Science 248, 73-76 (1990). [CrossRef]
B. A. Flusberg, E. D. Cocker, W. Piyawattanametha, J. C. Jung, E. L. M. Cheung, M. J, Schnitzer, "Fiber-optic fluorescence imaging", Nature Methods 2, 12 (2005). [CrossRef]
J. W. Lichtman, J. A. Conchello, Fluorescence microscopy, Nature Methods 2 (2005). [CrossRef]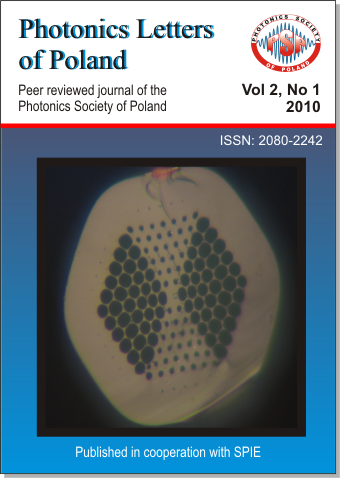 Downloads
How to Cite
[1]
Łukasz Kłonowski, E. Bereś-Pawlik, M. Rząca, and R. Czarnecki, "Scanning setup for the investigation of fluorescence beam spectra", Photonics Lett. Pol., vol. 2, no. 1, pp. pp. 52–54, Mar. 2010.
License
Authors retain copyright and grant the journal right of first publication with the work simultaneously licensed under a Creative Commons Attribution License that allows others to share the work with an acknowledgement of the work's authorship and initial publication in this journal. Authors are able to enter into separate, additional contractual arrangements for the non-exclusive distribution of the journal's published version of the work (e.g., post it to an institutional repository or publish it in a book), with an acknowledgement of its initial publication in this journal. Authors are permitted and encouraged to post their work online (e.g., in institutional repositories or on their website) prior to and during the submission process, as it can lead to productive exchanges, as well as earlier and greater citation of published work (See The Effect of Open Access).