WILGA Photonics and Web Engineering 2010
Abstract
SPIE - PSP WILGA Symposium is convened twice a year in January and in May, gathering new adepts of advanced photonic and electronic systems. The event is oriented towards components and applications. WILGA Symposium on Photonics and Web Engineering is well known in the web for its devotion to "young research" promotion under the eminent sponsorship of international engineering associations like SPIE and IEEE and their Poland Sections or Counterparts. WILGA is supported by the most important national professional organizations like KEiT PAN and PSP - Photonics Society of Poland. Apart from young researchers Wilga Symposium is always regularly attended by students' mentors.

Full Text: PDF

References:
Wilga2002?Proc.SPIE 5125
Wilga2003?Proc.SPIE 5484
Wilga2004?Proc.SPIE 5775
Wilga2005bis?Proc.SPIE 5948
Wilga2005?Proc SPIE 6159
Wilga2006?Proc.SPIE 6347
Wilga2007?Proc.SPIE 6937
Wilga2008?Proc.SPIE 7124
Wilga2009?Proc.SPIE 7502
Wilga2010?Proc.SPIE 7376
WILGA web page: http://wilga.ise.pw.edu.pl
WILGA WIKI: http://pl.wikipedia.org/wiki/SympozjumWilga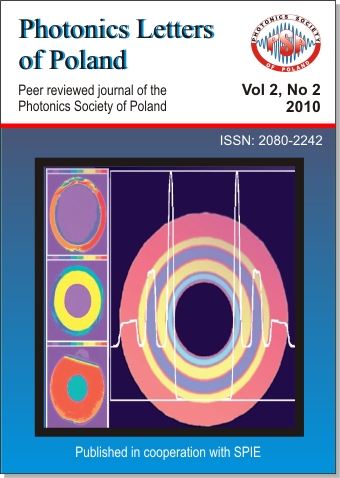 Downloads
How to Cite
Romaniuk, R. S. (2010). WILGA Photonics and Web Engineering 2010. Photonics Letters of Poland, 2(2), pp. 55–57. https://doi.org/10.4302/photon. lett. pl.v2i2.131
License
Authors retain copyright and grant the journal right of first publication with the work simultaneously licensed under a Creative Commons Attribution License that allows others to share the work with an acknowledgement of the work's authorship and initial publication in this journal. Authors are able to enter into separate, additional contractual arrangements for the non-exclusive distribution of the journal's published version of the work (e.g., post it to an institutional repository or publish it in a book), with an acknowledgement of its initial publication in this journal. Authors are permitted and encouraged to post their work online (e.g., in institutional repositories or on their website) prior to and during the submission process, as it can lead to productive exchanges, as well as earlier and greater citation of published work (See The Effect of Open Access).