Geometry design in rerfractive capillary optical fibers
Abstract
The work presents a design method of capillary optical fiber (COF) geometry. A change of proportions in the capillary optical fiber drawn from a single preform or a set of crucibles is allowed on-line via the control of overpressure and thermal conditions in the outflow meniscus, which essentially lowers the manufacturing costs. Navier-Stokes and Hagen-Poissuille equations, adapted to the COF pulling geometry, were solved. The velocity fields give solutions to other quantities of interest such as mass flow rate, pulling force and COF geometry, including controlled capillary expansion and collapse. The results for COFs are for the following dimensions: internal diameters 1-100um, external diameters 30-300um, dimensional stability 1%. The major issue of the work is lowering capillary fiber fabrication costs.

Full Text: PDF

References:
Y.T. Shah, et al.,"On the Stability of Nonisothermal Fiber Spinning-General Case", Ind. Eng. Chem. Fund. 11, 150 (1972).[CrossRef]
B.P. Huynh, et al.,"Study of the non-isothermal glass fibre drawing process", Rheology Acta 22, 482 (1983).[CrossRef]
A.N. Beris, et al.,"Time-dependent fiber spinning equations. 1. Analysis of the mathematical behavior", J. Non-Newtonian Fluid Mechanics 26, 341 (1988).[CrossRef]
M. Myers,"A model for unsteady analysis of preform drawing", AIChE Journ. 35(4) 592 (1989).[CrossRef]
H. Papamichael, et al.,"Thermal behavior of optical fibers during the cooling stage of the drawing process", J. Mater. Res. 6, 159 (1991).[CrossRef]
J.N. Dewynne, et al.,"Slender viscous fibres with inertia and gravity", Q. J. Mech. Appl. Math. 47, 541 (1994).[CrossRef]
A.D.Fitt, et al.,"Modeling the fabrication of hollow fibers: capillary drawing", JLT 19 (12), 1924 (2001).[CrossRef]
A.D.Fitt, et al.,"The mathematical modelling of capillary drawing for holey fibre manufacture", Journ. of Engineering Mathematics 43(2) 201 (2002).[CrossRef]
R.Romaniuk, et al., ETQ PAS, 52(3), 451 (2006)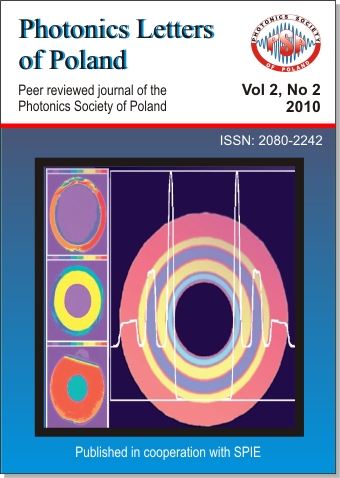 Downloads
How to Cite
[1]
R. S. Romaniuk, "Geometry design in rerfractive capillary optical fibers", Photonics Lett. Pol., vol. 2, no. 2, pp. pp. 64–66, Jun. 2010.
License
Authors retain copyright and grant the journal right of first publication with the work simultaneously licensed under a Creative Commons Attribution License that allows others to share the work with an acknowledgement of the work's authorship and initial publication in this journal. Authors are able to enter into separate, additional contractual arrangements for the non-exclusive distribution of the journal's published version of the work (e.g., post it to an institutional repository or publish it in a book), with an acknowledgement of its initial publication in this journal. Authors are permitted and encouraged to post their work online (e.g., in institutional repositories or on their website) prior to and during the submission process, as it can lead to productive exchanges, as well as earlier and greater citation of published work (See The Effect of Open Access).