Changes of refractive index of tellurite glass
Abstract
The goal of this work was to investigate the influence of rare earth ions such as Tm3+, Yb3+ on physico-chemical properies of tellurite glass from the TeO2-WO3-PbO-PbF2-Na2O system. The thermal characteristic of tellurite glass Tm3+, Yb3+ doped have been presented. The effect of the glass crystallization on thermal stability of the glass and crystallizing phases formed upon heat treatment were investigated by DTA/DSC/, XRD methods. The influence of ions of rare earth elements, i.e. Tm3+ and Yb3+, onto changes of refractive index of tellurite glass were examined.

Full Text: PDF

References:
L. M. Fortes, L. F. Santos, M. C. Gonçalves, R. M. Almeida, "Preparation and characterization of Er3+-doped TeO2-based oxyhalide glasses ", J. Non-Cryst. Solids 324, 150-158 (2003). [CrossRef]
J. Wasylak, M.Reben, "A new oxyfluoride tellurite glasses for optoelectronics ", European Glass Technology-European Journal of Glass Science and Technology: Physics and Chemistry of Glasses, 48, 264-250 (2007). [DirectLink]
T. Kosuge, Y. Benino, V. Dimitrov, R. Sato, T. Komatsu, ""Thermal stability and heat capacity changes at the glass transition in K2O?WO3?TeO2 glasses"", J. Non-CFigt. Solids 242, 154-164 (1998). [CrossRef]
D.W. Hall, M.A. Newhouse, N.F. Borrelli, W.H. Dumbaugh, D.L. Weidman,?Studies on some Ge---Se---Te glasses", J. Non-Cryst. Solids 103, 179-194 (1988). [CrossRef]
E.M. Vogel, M.J. Weber, D.M. Krol, "Nonlinear optical phenomena in glass", Phys.Chem. Glasses 32, 231-253 (1991). [DirectLink]
M. Reben, J. Wasylak, D. Dorosz, "Tellurite glasses for optical fibre fabrication", Proc. of SPIE 7120, (2008). [CrossRef]
M. Reben, J. Wasylak, P. Wantuch, Polska Konferencja Optyczna PKO 2009.
F. Urbach, "The long wavenlength of photographic sensitivity and of thr electronic absorption of solids", Phys. Rev. 92, 1324 (1953). [CrossRef]
D.A.G.Bruggeman, ?Berechnung verschiedener physikalischer konstanten von heterogenen substanzen?, Ann. Phys. (Leipzig) B 24, 636-674. [CrossRef]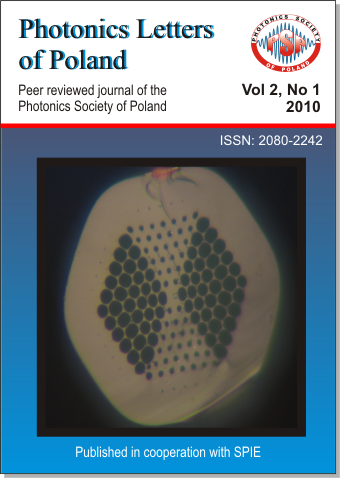 Downloads
How to Cite
[1]
M. Reben, J. Wasylak, and J. Jaglarz, "Changes of refractive index of tellurite glass", Photonics Lett. Pol., vol. 2, no. 1, pp. pp. 13–15, Mar. 2010.
License
Authors retain copyright and grant the journal right of first publication with the work simultaneously licensed under a Creative Commons Attribution License that allows others to share the work with an acknowledgement of the work's authorship and initial publication in this journal. Authors are able to enter into separate, additional contractual arrangements for the non-exclusive distribution of the journal's published version of the work (e.g., post it to an institutional repository or publish it in a book), with an acknowledgement of its initial publication in this journal. Authors are permitted and encouraged to post their work online (e.g., in institutional repositories or on their website) prior to and during the submission process, as it can lead to productive exchanges, as well as earlier and greater citation of published work (See The Effect of Open Access).