Temporal similarity for optical short pulses
Abstract
We define a temporal similarity function for assessing the temporal evolution of short pulses in dispersion media. For first-order dispersion media the temporal similarity function has a simple close expression. We use the sampled values of the temporal similarity function as coefficients, for expressing the output complex amplitude envelope as a finite linear superposition of the input complex amplitude envelope.

Full text: PDF

References:
M. D. Feit and J. A. Fleck, "Calculation of dispersion in graded-index multimode fibers by a propagating-beam method", Appl. Opt. 18, 2843 (1979). [CrossRef]
A.W. Lohmann and J. Ojeda-Castaneda, "Fresnel similarity", Opt. Comm. 249, 397 (2005). [CrossRef]
A. W. Lohmann, "An array illuminator based on the Talbot-effect," Optik ( Stuttgart) 79, 41-45 (1988).
J. R. Leger and G.J. Swanson, "Efficient array illuminator using binary-optics phase plates at fractional-Talbot planes", Opt. Lett. 15, 288 (1990). [CrossRef]
V. Arrizón and J. Ojeda-Castaneda, "Multilevel phase gratings for array illuminators", Appl. Opt. 33, 5925 (1994). [CrossRef]
J. Ojeda-Castaneda, P. Andrés and O. Mendoza-Yero, "Tailoring temporal intensities at first- and second-dispersion order ", Optical Memory and Neural Networks 18, 260 (2009). [CrossRef]
J. P. Guigay, "On Fresnel Diffraction by One-dimensional Periodic Objects, with Application to Structure Determination of Phase Objects", Optica Acta 18, 677 (1971). [CrossRef]
M. J. Bastiaans, Signal and Image Representation in Combined Spaces (Academic Press, 1995).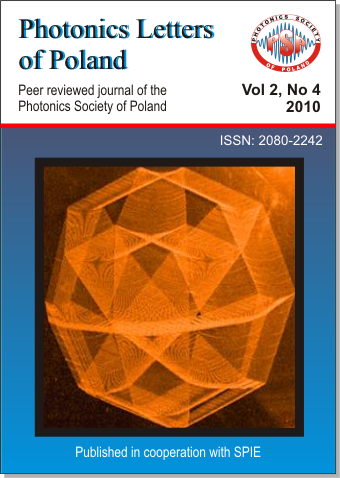 Downloads
How to Cite
[1]
J. Ojeda-Castaneda and C. M. Gómez-Sarabia, "Temporal similarity for optical short pulses", Photonics Lett. Pol., vol. 2, no. 4, pp. pp. 165–167, Dec. 2010.
License
Authors retain copyright and grant the journal right of first publication with the work simultaneously licensed under a Creative Commons Attribution License that allows others to share the work with an acknowledgement of the work's authorship and initial publication in this journal. Authors are able to enter into separate, additional contractual arrangements for the non-exclusive distribution of the journal's published version of the work (e.g., post it to an institutional repository or publish it in a book), with an acknowledgement of its initial publication in this journal. Authors are permitted and encouraged to post their work online (e.g., in institutional repositories or on their website) prior to and during the submission process, as it can lead to productive exchanges, as well as earlier and greater citation of published work (See The Effect of Open Access).