Understanding the birefringence effects in an all-fiber device based on photonic crystal fibers with integrated electrodes
Abstract
In this work, we study a special kind of photonic crystal fibers with two integrated electrodes. The device operation is based on induced birefringence caused by mechanical stress when electrical current heats the internal electrodes. Due to the complex structure of the fiber, a finite element model was carried out to determine the strain distributions generated at the center region of the fiber core, and hence taking the induced change in the refractive index as a change in the effective refractive index due to the transferred heat. Here, we explain the interesting result that fiber birefringence axes rotated asymptotically with temperature. The analysis shows that this rotation of the birefringence axes is the cause of a nonlinear variation of the effective refractive index of the fundamental mode.

Full text: PDF

References:
P.St.J. Russell, "Photonic-Crystal Fibers", J. Lightwave Technol. 24, 4729 (2006). [CrossRef]
B.J. Eggleton, C. Kerbage, P.S. Westbrook, R.S. Windeler, A. Hale, "Microstructured optical fiber devices", Opt. Exp. 9, 698 (2001), [CrossRef]
T.T. Larsen, A. Bjarklev, D.S. Hermann, J. Broeng, "Optical devices based on liquid crystal photonic bandgap fibres", Opt. Exp. 11, 2589 (2003), [CrossRef]
F. Du, Y.-Q. Lu, and S.-T. Wu, "Electrically tunable liquid-crystal photonic crystal fiber", Appl. Phys. Lett. 85, 2181 (2004). [CrossRef]
G. Chesini et al., "All-fiber devices based on photonic crystal fibers with integrated electrodes", Opt. Exp. 17, 1660 (2009), [CrossRef]
E. Reyes-Vera et al. in Latin America Optics and Photonics Conference (LAOP) (Washington, Optical Society of America 2010), ThF2.
S.P. Timoshenko, J.N. Goodier, Theory of Elasticity, 3rd ed. (New York, McGraw-Hill 1970).
J.F. Botero-Cadavid, J.D. Causado-Buelvas, P. Torres, "Spectral Properties of Locally Pressed Fiber Bragg Gratings Written in Polarization Maintaining Fibers", J. Lightwave Technol. 28, 1291 (2010). [CrossRef]
Z. Yu, O. Tarasenko, W. Margulis, and P. -Y. Fonjallaz, "Birefringence switching of Bragg gratings in fibers with internal electrodes", Opt. Exp. 16, 8229 (2008), [CrossRef]
S.H. Lee, B.H. Kim, W.-T. Han, "Effect of filler metals on the temperature sensitivity of side-hole fiber", Opt. Exp. 17, 9712-9717 (2009), [CrossRef]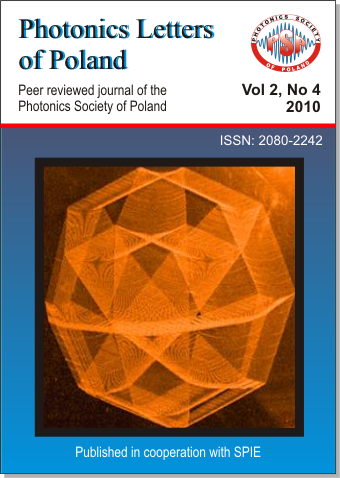 Downloads
How to Cite
[1]
E. Reyes-Vera, E. González-Valencia, and P. Torres, "Understanding the birefringence effects in an all-fiber device based on photonic crystal fibers with integrated electrodes", Photonics Lett. Pol., vol. 2, no. 4, pp. pp. 168–170, Dec. 2010.
License
Authors retain copyright and grant the journal right of first publication with the work simultaneously licensed under a Creative Commons Attribution License that allows others to share the work with an acknowledgement of the work's authorship and initial publication in this journal. Authors are able to enter into separate, additional contractual arrangements for the non-exclusive distribution of the journal's published version of the work (e.g., post it to an institutional repository or publish it in a book), with an acknowledgement of its initial publication in this journal. Authors are permitted and encouraged to post their work online (e.g., in institutional repositories or on their website) prior to and during the submission process, as it can lead to productive exchanges, as well as earlier and greater citation of published work (See The Effect of Open Access).