Growth and characterization of new NLO material: L-serine sodium nitrate
Abstract
Single crystals of L-serine sodium nitrate (LSSN), an organic nonlinear optical material have been synthesized by a slow evaporation technique at room temperature. The crystalline nature was confirmed by single crystal X-ray diffraction analysis. The powder X-ray diffraction of a grown crystal was recorded and indexed. The chemical composition of grown crystals was determined by FTIR spectra. Optical absorption studies have shown that a UV cut off wavelength of the grown crystal is at 256nm and it has a wide transparency window. The second harmonic generation (SHG) efficiency of the grown crystal was confirmed by the Kurtz and Perry powder technique.

Full text: PDF

References:
D.S. Chemla, J.Zyss, Nonlinear optical properties of organic molecules and crystals (Academic Press 1987).
H. Ringertz, "Structural Crystallography and Crystal Chemistry", Acta Crystallogr. B 27, 285 (1971). [CrossRef]
T. Pal, T. Karand, B. Gabriel, L. Rigi, "Morphology, Crystal Structure, and Thermal and Spectral Studies of Semiorganic Nonlinear Optical Crystal LAHClBr", Cryst. Growth Des. 4, 43 (2004). [CrossRef]
B.N. Moolya, A. Jayarama, M.R.S. Kumar, S.M. Dharmaprakash, "Hydrogen bonded nonlinear optical g-glycine: Crystal growth and characterization", J. Cryst. Growth 280, 581 (2005). [CrossRef]
M.M. Khandpekar, S.P. Pati, "Growth and characterisation of new non linear optical material a-glycine sulpho-nitrate (GLSN) with stable dielectric and light dependent properties", Opt. Comm. 283, 2700 (2010). [CrossRef]
S.K. Kurtz, T.T. Perry, "A Powder Technique for the Evaluation of Nonlinear Optical Materials", J. Appl. Phys. 39, 3798 (1968). [CrossRef]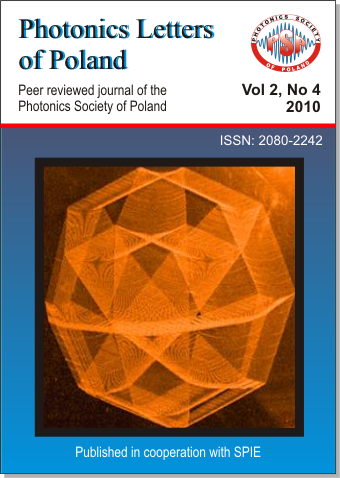 Downloads
Additional Files
How to Cite
[1]
S. Z. Ali Ahamed, G. R. Dillip, L. Manoj, P. Raghavaiah, and B. Deva Prasad Raju, "Growth and characterization of new NLO material: L-serine sodium nitrate", Photonics Lett. Pol., vol. 2, no. 4, pp. pp. 183–185, Dec. 2010.
License
Authors retain copyright and grant the journal right of first publication with the work simultaneously licensed under a Creative Commons Attribution License that allows others to share the work with an acknowledgement of the work's authorship and initial publication in this journal. Authors are able to enter into separate, additional contractual arrangements for the non-exclusive distribution of the journal's published version of the work (e.g., post it to an institutional repository or publish it in a book), with an acknowledgement of its initial publication in this journal. Authors are permitted and encouraged to post their work online (e.g., in institutional repositories or on their website) prior to and during the submission process, as it can lead to productive exchanges, as well as earlier and greater citation of published work (See The Effect of Open Access).