High performance Digital Optical Switch
Abstract
In this work, we present a high performance Y-shaped digital optical switch (DOS) which complies with the DOS reported earlier using Titanium in-diffused or proton exchanged Lithium Niobate waveguiding structures. The optimization of switching characteristics is performed for switching voltage and device size. This structure has a total length of 5.5mm and a width of 20.6um. For the first time, the driving voltage as low as 1V has been achieved with acceptable crosstalk levels (in the range of -22dB to -28dB) for communication applications. Using a beam propagation method (BPM), we demonstrate that the switch is polarization independent and suitable for low attenuation optical window (1300nm and 1550nm) operation as well.  

Full text: PDF

References:
R. Hauffe, U. Siebel, J. Bruns, K. Peterman, "Digital Optical Circuit Switches and Switching Matrices in Polymers", Int. J. Electron. Commun. 55(5), 305 (2001). [CrossRef]
M. Iodice, G. Mazzi, L. Sirleto, "Thermo-optical static and dynamic analysis of a digital optical switch based on amorphous silicon waveguide", Opt. Exp. 14(12), 5266 (2006). [CrossRef]
L. Sirleto, M. Iodice, F.G. Della Corte, I. Rendina, "Digital optical switch based on amorphous silicon waveguide", Opt. Lasers Eng. 45, 458 (2007). [CrossRef]
P.J. Duthie, M.J. Wale, "16×16 single chip optical switch array in Lithium Niobate", Electron. Lett. 27(14), 1265 (1997). [CrossRef]
H. Okkayama, M. Kawahara, "Ti:LiNbO3 digital optical switch matrices", Electron. Lett. 29(9), 765 (1993). [CrossRef]
S.J. Kim, H.S. Jung, H.Y. Lee, Jour. Opt. Soc. Korea 7(4), 253 (2003).
R. Krähenbühl, M.M. Howerton, J. Dubinger, "Performance and modeling of advanced Ti:LiNbO3 digital optical switches", A.S. Greenblatt Jour. Lightwave Tech. 20(1), 92 (2002). [CrossRef]
M.N. Kahn, B.I. Miller, E.C. Burrows, C.A. Burrus, "Crosstalk-, loss-, and length-reduced digital optical Y-branch switches using a double-etch waveguide structure", IEEE Photon. Technol. Lett. 11, 1250 (1999). [CrossRef]
M.K. Pandit, H.P. Chan, K.S. Chiang, S. Ghosh, A.K. Das, "A digital optical switch (DOS) in polymer using truncated-structural X-branches (TSXB)", Microwave Opt. Techn. Lett. 27(4), 229 (2000). [CrossRef]
R. Krähenbühl, W.K. Burns, OSA Photon. Switching 32, 160 (1999).
G. Singh, R.P Yadav, V. Janyani, "Design and Analysis of Ti: LiNbO3 1x2 Digital Optical Switch with Optimized Electrode Regions", Jour. Opt. Commun. 31(2), 78 (2010). [CrossRef]
Beam Prop 5.1.1, R-Soft Design Group, Inc., Physical Layer Division, 200 Executive Blvd., Ossining, NY 10562.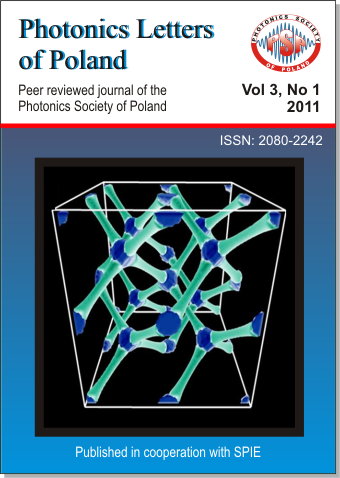 Downloads
Additional Files
How to Cite
[1]
G. Singh, S. Gupta, P. Jain, S. Bothra, V. Janyani, and R. Yadav, "High performance Digital Optical Switch", Photon.Lett.PL, vol. 3, no. 1, pp. pp. 38–40, Mar. 2011.
License
Authors retain copyright and grant the journal right of first publication with the work simultaneously licensed under a Creative Commons Attribution License that allows others to share the work with an acknowledgement of the work's authorship and initial publication in this journal. Authors are able to enter into separate, additional contractual arrangements for the non-exclusive distribution of the journal's published version of the work (e.g., post it to an institutional repository or publish it in a book), with an acknowledgement of its initial publication in this journal. Authors are permitted and encouraged to post their work online (e.g., in institutional repositories or on their website) prior to and during the submission process, as it can lead to productive exchanges, as well as earlier and greater citation of published work (See The Effect of Open Access).