Analysis of optical properties of InGaSb PIN photdiodes
Abstract
This paper represents the optical characteristics of InGaSb PIN photodiodes, grown on metamorphic layers of InGaSb, through the modeling of responsivity, quantum efficiency and detectivity. The modeling is based on the wavelength dependent models of absorption coefficient and reflectivity. Theoretical results are fitted with experimental data obtained for these photodiodes. The cut-off wavelength is found to be 2271nm, which is within ?5nm of the experimentally obtained data. The detectivity of the photodiodes is found to be 1.5(?0.1)×109cmHz1/2W-1 and quantum efficiency 28?3% through the analysis. Such modeling can be used to optimize the detection performance of InGaSb PIN photodiodes.  

Full Text: PDF

References:
P.S. Dutta, H.L. Bhat, V. Kumar, "The physics and technology of gallium antimonide: An emerging optoelectronic material ", J. Appl. Phys. 81, 5821 (1997).[CrossRef]
F.M. Mohammedy, M.J. Deen, "Growth and fabrication issues of GaSb-based detectors", J. Mater. Sci.: Mater Electron. 20, 1039 (2009). [CrossRef]
F.M. Mohammedy, O. Hulko, B.J. Robinson, D.A. Thompson, M.J. Deen, "Effect of growth temperature on InGaSb metamorphic layers and the fabrication of InGaSb p-i-n diodes", J. Vac. Sci. Technol. 26(2) 636 (2008).[CrossRef]
J.A. González-Cuevas, T.F. Refaat, M.N. Abedin, H.E. Elsayed-Ali, "Modeling of the temperature-dependent spectral response of In1??Ga?Sb infrared photodetectors", Opt. Eng. 45(4) 044001 (2006).[CrossRef]
M. Tanzid, F.M. Mohammedy, "Analysis of zero-bias resistance area product for InGaSb PIN Photodiodes", Proc. of ICECE, 419 (2010).[CrossRef]
Y. Tian, T. Zhou, B. Zhang, Y. Jin, H. Jiang, "Analysis of the R0A product and detectivity in a GaInAsSb infrared photovoltaic detector ", J. Phys. D: Appl. Phys. 31, 3291 (1998).[CrossRef]
M. Tanzid, F.M. Mohammedy, Proc. of OSA-IEEE-COS Topical Meeting on Advances in Optoelectronics and Micro/nano-optics, (2010).
F.M. Mohammedy, M.J. Deen, D.A. Thompson, "Extraction of Electron and Hole Ionization Coefficients From Metamorphically Grown InGaSb Diodes", IEEE Tran. Elec. Devices 56(3), 523 (2009).[CrossRef]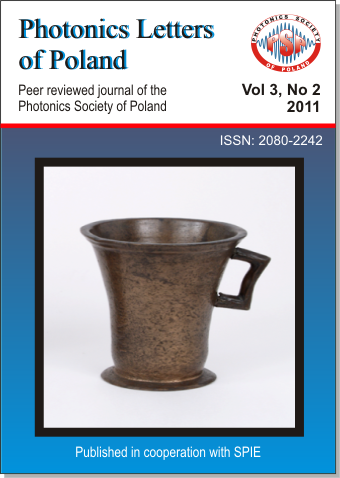 Downloads
How to Cite
[1]
M. Tanzid and F. M. Mohammedy, "Analysis of optical properties of InGaSb PIN photdiodes", Photonics Lett. Pol., vol. 3, no. 2, pp. pp. 58–60, Jun. 2011.
License
Authors retain copyright and grant the journal right of first publication with the work simultaneously licensed under a Creative Commons Attribution License that allows others to share the work with an acknowledgement of the work's authorship and initial publication in this journal. Authors are able to enter into separate, additional contractual arrangements for the non-exclusive distribution of the journal's published version of the work (e.g., post it to an institutional repository or publish it in a book), with an acknowledgement of its initial publication in this journal. Authors are permitted and encouraged to post their work online (e.g., in institutional repositories or on their website) prior to and during the submission process, as it can lead to productive exchanges, as well as earlier and greater citation of published work (See The Effect of Open Access).