Structure of sol-gel derived Nb2O5 films for active coating devices
Abstract
This work presents the results of structure investigations of sol-gel derived Nb2O5 thin films. Traditional therma annealing of as-prepared films leading to Nb2O5 crystalline structure formation [1] was substituted by microwave irradiation. The proposed method allows for covering substrates with a different size and shape. The structure of the films was studied using X–ray diffraction (XRD), atomic force microscopy (AFM) and VIS optical absorption measurements. The films exhibit a quantum size effect. The diameter of nanocrystals depends on microwave radiation power and irradiation time.  

Full Text: PDF

References:
B. Kościelska, A. Winiarski, "Structural investigations of nitrided Nb2O5 and Nb2O5–SiO2 sol–gel derived films ", J. Non-Cryst. Solids 354, 4349 (2008).[CrossRef]
H. Ohta, H. Hosono, "Transparent oxide optoelectronics", Mater. Today 7, 42 (2004).[CrossRef]
G. Agarwal, G.B. Reddy, "Study of surface morphology and optical properties of Nb2O5 thin films with annealing", J. Mater Sci.-Mater. El. 16, 21 (2005).[CrossRef]
J. Gandhi, R. Dangi, S. Bhardwaj, Rasayan J. Chem. 1, 567 (2008).
P. Guo, M.A. Aegerter, "RU(II) sensitized Nb2O5 solar cell made by the sol-gel process", Thin Solid Films 351, 290 (1999).[CrossRef]
S. Heusing, D.L. Sun, J. Otero-Anaya, M.A. Aegerter, "Grey, brown and blue coloring sol–gel electrochromic devices", Thin Solid Films 502, 240 (2006).[CrossRef]
C.G. Granqvis, "Transparent conductors as solar energy materials: A panoramic review", Sol. Energ. Mat. Sol. C 91, 1529 (2007).[CrossRef]
D.D. Claudio, A.R. Phani, S. Santucci, "Enhanced optical properties of sol–gel derived TiO2 films using microwave irradiation", Opt. Mater. 30, 279 (2007).[CrossRef]
C. Kormann, D. Bahnemann, M.R. Hoffmann, "Preparation and characterization of quantum-size titanium dioxide", J. Phys. Chem. 92, 5196 (1988).[CrossRef]
Y. Sorek, R. Reisfeld, A.M. Weiss, "Effect of composition and morphology on the spectral properties and stability of dyes doped in a sol-gel glass waveguide", Chem. Phys. Lett. 244, 371 (1995).[CrossRef]
L. Brus, "Electronic wave functions in semiconductor clusters: experiment and theory", J. Phys. Chem. 90, 2555 (1986).[CrossRef]
M. Lapinski, J. Domaradzki, E.L. Prociow, K. Sieradzka, B. Górnicka, Proc. 2009 International Students and Young Scientists Workshop "Photonics and Microsystems" 52 (2009)
J. Tauc, R. Grirorovici, A. Vancu, "Optical Properties and Electronic Structure of Amorphous Germanium", Phys. Status Solidi 15, 627 (1966).[CrossRef]
G.D. Cody, T. Tiedje, B. Abeles, B. Brooks, Y. Goldstein, "Disorder and the Optical-Absorption Edge of Hydrogenated Amorphous Silicon", Phys. Rev. Lett. 47, 1480 (1981).[CrossRef]
J. Sancho-Parramon, V. Janicki, H. Zorc, "Compositional dependence of absorption coefficient and band-gap for Nb2O5–SiO2 mixture thin films ", Thin Solid Films 516, 5478 (2008).[CrossRef]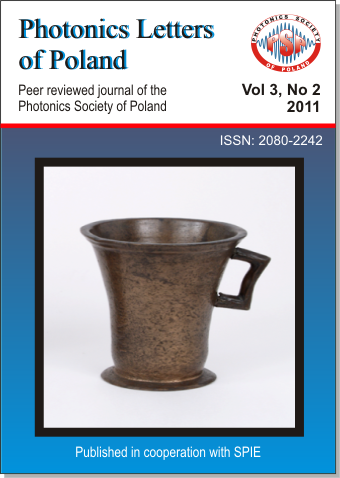 Downloads
How to Cite
[1]
B. Kościelska, M. Łapiński, W. Sadowski, and M. Dęby, "Structure of sol-gel derived Nb2O5 films for active coating devices", Photonics Lett. Pol., vol. 3, no. 2, pp. pp. 61–63, Jun. 2011.
License
Authors retain copyright and grant the journal right of first publication with the work simultaneously licensed under a Creative Commons Attribution License that allows others to share the work with an acknowledgement of the work's authorship and initial publication in this journal. Authors are able to enter into separate, additional contractual arrangements for the non-exclusive distribution of the journal's published version of the work (e.g., post it to an institutional repository or publish it in a book), with an acknowledgement of its initial publication in this journal. Authors are permitted and encouraged to post their work online (e.g., in institutional repositories or on their website) prior to and during the submission process, as it can lead to productive exchanges, as well as earlier and greater citation of published work (See The Effect of Open Access).