Characterizing electrokinetic mobility of microparticles using in-line holographic microscopy
Abstract
Traditionally, electrokinetic phenomena are demonstrated under a microscope. Since an ordinary light microscope has a short depth of focus and in many cases the electrokinetic phenomenon may take place in a relatively large volume, it is essential to use a microscopic method which has a long depth of focus and adequate depth resolution. The advantage of using a transparent platform and in-line holographic imaging for particle tracking is shown. Dielectrophoretic (DEP) particle motion is demonstrated on a fully transparent platform with 2D indium-tin-oxide (ITO) electrodes, and images of the whole sample volume are reconstructed using the digital in-line holographic method (DIHM) in order to find the 3D positions and speeds of the particles influenced by the DEP force and other electrokinetic forces. DIHM imaging proved to be a practical tool for analyzing particle motion due to multiple, simultaneously acting, electrokinetic forces.

Full text: PDF

References:
H. Watarai, T. Sakamoto, S. Tsukahara, "In Situ Measurement of Dielectrophoretic Mobility of Single Polystyrene Microparticles", Langmuir 13, p.2417-2420 (1997). [CrossRef]
H. Morgan, N. G. Green, AC electrokinetics: Colloids and nanoparticles (England, Research Studies Press LTD 2003).
M. Kuokkanen, Cent. Eur. J. Phys (2009).
S. K. Jericho, P. Klages, J. Nadeau, E. M. Dumas, M. H. Jericho, H. J. Kreuzer, "In-line digital holographic microscopy for terrestrial and exobiological research", Planetary and Space Science, 58, p.701-705, (2010). [CrossRef]
J. Garcia-Sucerquia, W. Xu, S. K. Jericho, M. H. Jericho, H. J. Kreuzer, "4-D imaging of fluid flow with digital in-line holographic microscopy", Optik, 119, p.419-423.(2008). [CrossRef]
R. Pethig, "Preface to Special Topic: Dielectrophoresis", Biomicrofluidics, vol. 4, (2010). [CrossRef]
M. P. Hughes, Nanoelectromechanics in Engineering and Biology (CRC Press 2003). [DirectLink]
T. B. Jones, Electromechanics of Particles (Cambridge University Press 1995). [CrossRef]
H.A. Pohl, "The Motion and Precipitation of Suspensoids in Divergent Electric Fields", J. Appl. Phys. vol. 22, no. 7, pp. 869-871, (1951). [CrossRef]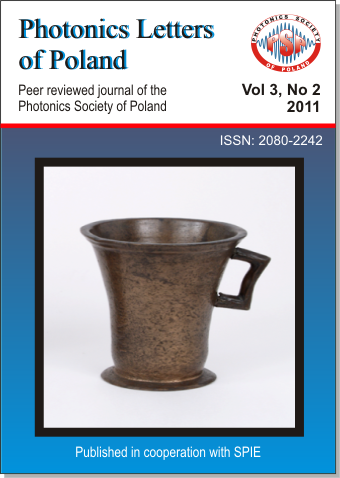 Downloads
Additional Files
How to Cite
[1]
M. Haapalainen, V. Kaikkonen, I. Kinnunen, and A. Mäkynen, "Characterizing electrokinetic mobility of microparticles using in-line holographic microscopy", Photonics Lett. Pol., vol. 3, no. 2, pp. pp. 85–87, Jun. 2011.
License
Authors retain copyright and grant the journal right of first publication with the work simultaneously licensed under a Creative Commons Attribution License that allows others to share the work with an acknowledgement of the work's authorship and initial publication in this journal. Authors are able to enter into separate, additional contractual arrangements for the non-exclusive distribution of the journal's published version of the work (e.g., post it to an institutional repository or publish it in a book), with an acknowledgement of its initial publication in this journal. Authors are permitted and encouraged to post their work online (e.g., in institutional repositories or on their website) prior to and during the submission process, as it can lead to productive exchanges, as well as earlier and greater citation of published work (See The Effect of Open Access).