Liquid-Crystal Based Light Steering Optical Elements
Abstract
Potential abilities of active optical elements based on liquid crystals are investigated. We consider liquid crystal cells in which a desired distribution of the liquid crystal director is achieved by a non-uniform electric field and by inhomogeneous boundary conditions. The optical elements built on principles of diffractive optics are discussed.

Full text: PDF

References:
R. Dabrowski, J. Dziaduszek, A. Ziolek, L. Szczucinski, Z. Stolarz, G. Sasnouski, V. Bezborodov, W. Lapanik, S. Gauza, S. T. Wu, "Low viscosity, high birefringence liquid crystalline compounds and mixtures", Opto-Electr. Rev. 15, 47 (2007). [CrossRef]
S. Gauza, C.H. Wen, S.T. Wu, N. Janarthanan, C.S. Hsu, "Super High Birefringence Isothiocyanato Biphenyl-Bistolane Liquid Crystals", Jpn. J. Appl. Phys. 43, 7634, (2004). [CrossRef]
V. G. Chigrinov, Liquid Crystal Devices: Physics and Applications (Artech House, Norwood, MA, 1999).
B. Kress, P. Meyrueis: Digital Diffractive Optics (Wiley, Chicester 2000)
M. Born and E. Wolf, Principles of Optics, 7th ed. (Cambridge U. Press, 1999).
B. Apter, U. Efron, E. Bahat-Treidel, "On the Fringing-Field Effect in Liquid-Crystal Beam-Steering Devices", Appl. Opt. 43, 11 (2004). [CrossRef]
P. F. McManamon, T. A. Dorschner, D. L. Corkum, L.J.Friedman,D. S. Hobbs, M. Holz, S. Liberman, H. Q. Nguyen, D. P.Resler, R. C. Sharp, and E. A. Watson, "Optical phased array technology", Proc. IEEE 84, 268 (1996). [CrossRef]
P. F. McManamon, P. J. Bos, M. J. Escuti, J. Heikenfeld, S. Serati, H. Xie, E. A. Watson, "A Review of Phased Array Steering for Narrow-Band Electrooptical Systems", Proc. IEEE 97, 1078 (2009). [CrossRef]
S. Valyukh, I. Valyukh, V. Chigrinov, H. S. Kwok, H. Arwin, "Liquid crystal light deflecting devices based on nonuniform anchoring", Appl. Phys. Lett. 97, 231120 (2010). [CrossRef]
S. Valyukh, V. Chigrinov, H. S. Kwok, "44.3: A Liquid Crystal Lens with Non-uniform Anchoring Energy", Digest SID 08, 659 (2008). [CrossRef]
A.A. Muravsky, V.E. Agabekov, A.L. Tolstik, U.V. Mahilny, "Photoaligned Liquid Crystal Lens with Single Low Voltage Electrode", Semicon. Phys. Quant. Electr. Optoel., 13, 154 (2010). [DirectLink]
M. Ye, Y. Yokoyama, and S. Sato, "Liquid crystal lens prepared utilizing patterned molecular orientations on cell walls", Appl. Phys. Lett. 89, 141112 (2006). [CrossRef]
V. Chigrinov, H. S. Kwok, H. Takada, H. Takatsu, "Photo-aligning by azo-dyes: Physics and applications", Liq. Cryst. Today, 14, 4, (2005). [CrossRef]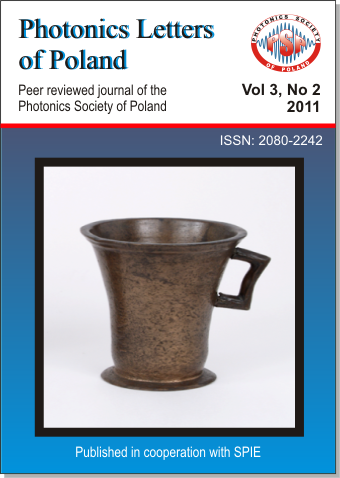 Downloads
How to Cite
[1]
S. Valyukh, I. Valyukh, and V. Chigrinov, "Liquid-Crystal Based Light Steering Optical Elements", Photonics Lett. Pol., vol. 3, no. 2, pp. pp. 88–90, Jun. 2011.
License
Authors retain copyright and grant the journal right of first publication with the work simultaneously licensed under a Creative Commons Attribution License that allows others to share the work with an acknowledgement of the work's authorship and initial publication in this journal. Authors are able to enter into separate, additional contractual arrangements for the non-exclusive distribution of the journal's published version of the work (e.g., post it to an institutional repository or publish it in a book), with an acknowledgement of its initial publication in this journal. Authors are permitted and encouraged to post their work online (e.g., in institutional repositories or on their website) prior to and during the submission process, as it can lead to productive exchanges, as well as earlier and greater citation of published work (See The Effect of Open Access).