Modeling of a 2×2 electro-optic Mach-Zehnder Interferometer optical switch with s-bend arms
Abstract
In this paper, we present a 2×2 electro-optic switch based on a Mach-Zehnder interferometer (MZI) with tapered (s-bend) interferometric arms. All structures have been designed with a channel profile of titanium indiffused lithium niobate waveguides. The crosstalk analysis of the switch suggests that the crosstalk levels become worse (-12dB) when both interferometric arms of the structure are tapered. We have optimized the structure in order to reduce the overall switch losses (< 0.5dB) and to achieve the best possible extinction ratio (> 20dB).  

Full Text: PDF

References:
N. Agrawal et al., "Fast 2×2 Mach-Zehnder optical space switches using InGaAsP-InP multiquantum-well structures", IEEE Phot. Techn. Lett. 7, 644 (1995). [CrossRef]
H.Y. Wong et al., "Monolithically integrated InGaAs-AlGaInAs Mach-Zehnder Interferometer optical switch using quantum-well intermixing", IEEE Phot. Techn. Lett. 17, 783 (2005). [CrossRef]
K. Suzuki, et al., "High-Speed Optical 1 × 4 Switch Based on Generalized Mach?Zehnder Interferometer With Hybrid Configuration of Silica-Based PLC and Lithium Niobate Phase-Shifter Array", IEEE Phot. Techn. Lett. 19, 674 (2007). [CrossRef]
G.Singh, R.P. Yadav, V. Janyani, Int. J. Comp. Appl. 33, 36 (2011). [CrossRef]
K. Noguchi, "Ultra-high-speed LiNbO3 modulators", J. Opt. Fiber Commun. Rep. 4, 1 (2007). [CrossRef]
A.M. Prokhorov, S. Yu, Physics and Chemistry of Crystalline Lithium Niobate (Hilger, New York 1990).
W.-Y. Hwang et al., "Polymeric 2×2 electrooptic switch consisting of asymmetric Y junctions and Mach-Zehnder interferometer", IEEE Phot. Techn. Lett. 9, 6 (1997). [CrossRef]
G. Ducournau, O. Latry, M. Kétata, "Fiber-based Mach-Zehnder interferometric structures: principles and required characteristics for efficient modulation format conversion ", Proc. of SPIE 6019, 60190A, (2005). [CrossRef]
P.J. Dong et al., Peleton Photonic Systems Inc., US Patent 6763155 B2, July 13th, 2004.
G.I. Papadimitriou et al., "Optical switching: switch fabrics, techniques, and architectures", J. Lightw. Techn. 21, 384 (2003). [CrossRef]
OptiBPM, Waveguide optics modeling software system, version 8.0, second edition, Optiwave Inc. 2006.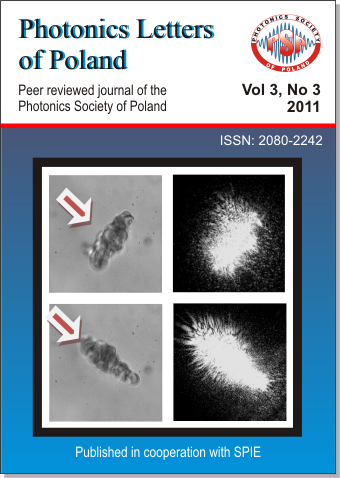 Downloads
Additional Files
How to Cite
[1]
G. Singh, V. Janyani, and R. Yadav, "Modeling of a 2×2 electro-optic Mach-Zehnder Interferometer optical switch with s-bend arms", Photonics Lett. Pol., vol. 3, no. 3, pp. pp. 119–121, Sep. 2011.
License
Authors retain copyright and grant the journal right of first publication with the work simultaneously licensed under a Creative Commons Attribution License that allows others to share the work with an acknowledgement of the work's authorship and initial publication in this journal. Authors are able to enter into separate, additional contractual arrangements for the non-exclusive distribution of the journal's published version of the work (e.g., post it to an institutional repository or publish it in a book), with an acknowledgement of its initial publication in this journal. Authors are permitted and encouraged to post their work online (e.g., in institutional repositories or on their website) prior to and during the submission process, as it can lead to productive exchanges, as well as earlier and greater citation of published work (See The Effect of Open Access).