Effect of red blood cells aggregation on scattering coefficient
Abstract
Red blood cells (RBCs) suspended in plasma aggregate. This paper presents a method of determination of scattering coefficient of the RBC suspensions at 632nm wavelength. Blood was obtained from healthy donors. The intensity of coherent component of the scattered light from the suspension located in wedge shaped container was measured during 35 min at sample thickness from 127 to 547µm, at hematocrits 0.01 to 0.04. It is shown that the scattering coefficient linearly decreases with time at the early stages of RBC aggregation. The time dependence of the coefficient becomes nonlinear when the early aggregation is completed. The duration of the early phase of RBC aggregation decreases as hematocrit increases. At very small hematocrits (Ht ≤ 0.01) the scattering coefficient is independent of the thickness of the sample. The effect of the sample thickness on the scattering at higher hematocrits has been demonstrated 

Full Text: PDF

References: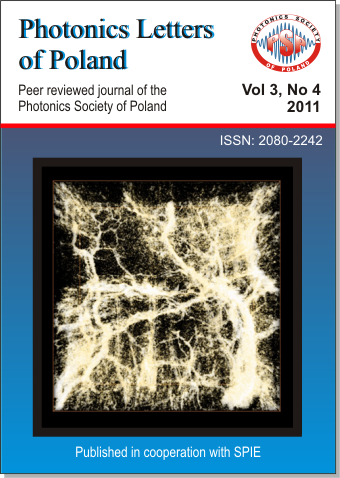 Downloads
How to Cite
[1]
A. Szołna-Chodór, A. Kempczyński, and B. Grzegorzewski, "Effect of red blood cells aggregation on scattering coefficient", Photonics Lett. Pol., vol. 3, no. 4, pp. pp. 153–155, Dec. 2011.
License
Authors retain copyright and grant the journal right of first publication with the work simultaneously licensed under a Creative Commons Attribution License that allows others to share the work with an acknowledgement of the work's authorship and initial publication in this journal. Authors are able to enter into separate, additional contractual arrangements for the non-exclusive distribution of the journal's published version of the work (e.g., post it to an institutional repository or publish it in a book), with an acknowledgement of its initial publication in this journal. Authors are permitted and encouraged to post their work online (e.g., in institutional repositories or on their website) prior to and during the submission process, as it can lead to productive exchanges, as well as earlier and greater citation of published work (See The Effect of Open Access).