Polarization-resolved conoscopic patterns of planar oriented liquid crystal cells
Abstract
We theoretically and experimentally investigate the angular structure of polarization of light transmitted through planar nematic and cholesteric liquid crystal (LC) cells by analyzing the polarization state as a function of the incidence angles and the polarization characteristics of the incident wave (the ellipticity and the azimuth of polarization). The geometry of polarization-resolved conoscopic (angular) patterns emerging after the planar nematic and cholesteric LC cells is described in terms of the polarization singularities such as C-points (points of circular polarization) and L-lines (lines of linear polarization). The characteristic feature of polarization-resolved conoscopic patterns under consideration is that the conditions of C-point formation are very sensitive to polarization parameters of the incident wave.

Full text: PDF

References:
P.G. de Gennes, J. Prost, The Physics of Liquid Crystals (Clarendon, Oxford, 1993).
P. Yeh, C. Gu, Optics of Liquid Crystal Displays (Wiley, Singapore, 1999).
V.G. Chigrinov, Liquid Crystal Devices: Physics and Applications (Artech House, Boston, 1999).
L.H. Brett, H.H. Winter, "Analysis of the Conoscopic Measurement for Uniaxial Liquid-Crystal Tilt Angles", Appl. Opt. 40, 2089 (2001). [CrossRef]
A.D. Kiselev, "Singularities in polarization resolved angular patterns: transmittance of nematic liquid crystal cells", J. Phys.: Condens. Matter 19, 246 102 (2007). [CrossRef]
A.D. Kiselev, R.G. Vovk, R.I. Egorov, V.G. Chigrinov, "Polarization-resolved angular patterns of nematic liquid crystal cells: Topological events driven by incident light polarization", Phys. Rev. A. 78, 033815 (2008). [CrossRef]
M. Born, E. Wolf, Principles of Optics (Pergamon, Oxford, 1980).
J.F. Nye, Natural Focusing and Fine Structure of Light: Caustics and Wave Dislocations (Institute of Physics, Bristol, 1999).
N.D. Mermin, "The topological theory of defects in ordered media", Rev. Mod. Phys. 51, 591 (1979). [CrossRef]
D.W. Berreman, "Optics in Stratified and Anisotropic Media: 4x4-Matrix Formulation", J. Opt. Soc. Am. 62, 502 (1972). [CrossRef]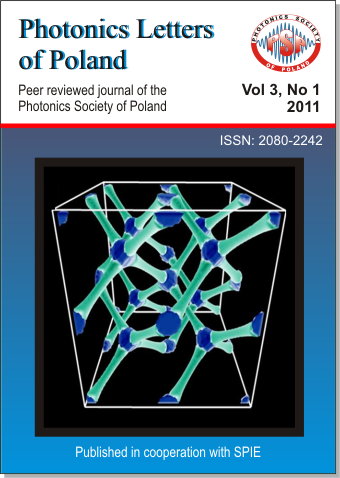 Downloads
How to Cite
[1]
R. G. Vovk and A. D. Kiselev, "Polarization-resolved conoscopic patterns of planar oriented liquid crystal cells", Photonics Lett. Pol., vol. 3, no. 1, pp. pp. 14–16, Mar. 2011.
License
Authors retain copyright and grant the journal right of first publication with the work simultaneously licensed under a Creative Commons Attribution License that allows others to share the work with an acknowledgement of the work's authorship and initial publication in this journal. Authors are able to enter into separate, additional contractual arrangements for the non-exclusive distribution of the journal's published version of the work (e.g., post it to an institutional repository or publish it in a book), with an acknowledgement of its initial publication in this journal. Authors are permitted and encouraged to post their work online (e.g., in institutional repositories or on their website) prior to and during the submission process, as it can lead to productive exchanges, as well as earlier and greater citation of published work (See The Effect of Open Access).