Evaluation of optical parameters of quasi-parallel plates with single-frame interferogram analysis methods
Abstract
The surface flatness of transparent plates is frequently tested in Fizeau and Twyman-Green interferometers. In case of quasi-parallel plates, however, a common problem is the additional reflection from the plate rear surface and three-beam interference is encountered. Our new method of deriving shape and optical thickness variations of the plate requires recording two interferograms: a two-beam interferogram without a reference beam and the three-beam interference one. The images are processed using single-frame techniques only. The proposed method does not require modification of a sample or sophisticated equipment and complicated data analysis.

Full Text: PDF

References:

P. de Groot, "Measurement of Transparent Plates with Wavelength-Tuned Phase-Shifting Interferometry", Appl. Opt. 39(16) (2000).CrossRef
J. Schwider, Progress in Optics, E. Wolf ed., 28, North Holland, Amsterdam (1990).
K. Hibino, B.F. Oreb, P.S. Fairman, and J. Burke, "Simultaneous Measurement of Surface Shape and Variation in Optical Thickness of a Transparent Parallel Plate in Wavelength-Scanning Fizeau Interferometer", Appl. Opt. 43(6), (2004).CrossRef
K.G. Larkin, D.J. Bone, and M.A. Oldfield, "Natural demodulation of two-dimensional fringe patterns. I. General background of the spiral phase quadrature transform", J. Opt. Soc. Am. A, 18(8) (2001).CrossRef
M.A. Gdeisat, D.R. Burton, M.J. Lalor, "Spatial carrier fringe pattern demodulation by use of a two-dimensional continuous wavelet transform", Appl. Opt. 45 (34) (2006).CrossRef
C. Ai, J.C. Wyant, "Effect of spurious reflection on phase shift interferometry", Appl. Opt. 27(14) (1988).CrossRef
A. Styk, K. Patorski, "Fizeau interferometer for quasi parallel optical plate testing", Proc. SPIE 7063, 70630P (2008).CrossRef
Z. Wang, H. Ma, "Advanced continuous wavelet transform algorithm for digital interferogram analysis and processing", Opt. Eng. 45(4), 045601, (2006).CrossRef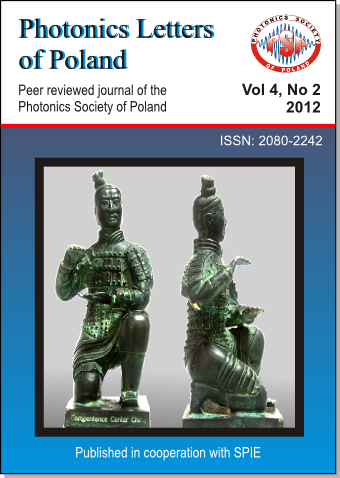 Downloads
How to Cite
[1]
Z. Sunderland, K. Patorski, and K. Pokorski, "Evaluation of optical parameters of quasi-parallel plates with single-frame interferogram analysis methods", Photonics Lett. Pol., vol. 4, no. 2, pp. pp. 63–65, Jun. 2012.
License
Authors retain copyright and grant the journal right of first publication with the work simultaneously licensed under a Creative Commons Attribution License that allows others to share the work with an acknowledgement of the work's authorship and initial publication in this journal. Authors are able to enter into separate, additional contractual arrangements for the non-exclusive distribution of the journal's published version of the work (e.g., post it to an institutional repository or publish it in a book), with an acknowledgement of its initial publication in this journal. Authors are permitted and encouraged to post their work online (e.g., in institutional repositories or on their website) prior to and during the submission process, as it can lead to productive exchanges, as well as earlier and greater citation of published work (See The Effect of Open Access).