Spectroscopic properties of rare earth ions in tellurite glass
Abstract
Spectroscopic and optical properties of rare earth ions: Tb3+, Eu3+, Er3+, Pr3+, Nd3+ions in multicomponent tellurite-tungstate glass have been investigated. The spectral dependence of ellipsometric angles of the tellurite glass rare earth (RE) doped, have been studied. The optical measurements were conducted on Woollam M2000 spectroscopic ellipsometer, in spectral range of 190-1700nm. The reflectance and transmittance measurements have been done.

Full Text: PDF

References
R. El-Mallawany, Tellurite Glasses Handbook (CRC press, London/New York/Washington 2002).
L. Shaltout, Y. Tang, R. Braunstein, E.E. Shaisha, "FTIR spectra and some optical properties of tungstate-tellurite glasses", J. Phys. Chem. Solids 57(9), 1223 (1996). CrossRef
P. Mergo et al., "Supercontinuum generation in suspended core microstructured optical fibers", Proc. SPIE 7120, 712009 (2008). CrossRef
T. Kosuge, Y.Benino, V. Dimitrov, R. Sato, T. Komatsu, "Thermal stability and heat capacity changes at the glass transition in K2O–WO3–TeO2 glasses", J. Non-Cryst. Solids 242 (2-3), 154 (1998). CrossRef
G. X. Chen, Q. Y. Zhang, G. F. Yang, Z. H. Jiang, "Spectroscopic properties and energy transfer of Tm3+ /Ho3+ -codoped TeO2 –WO3 –ZnO glasses for 1.47 m ampli?er", J. Fluorensc. 17, 301 (2007). CrossRef
J. S. Wang, E. M. Vogel, E. Snitzer, "Tellurite glass: a new candidate for fiber devices", Opt. Mater. 3, 187 (1994). CrossRef
G.E. Jellison, "Spectroscopic ellipsometry data analysis: measured versus calculated quantities", Thin Solid Films 313-314, 33 (1998). CrossRef
B. Johs, C.M. Herzinger, J.H. Dinan, A. Cornfeld, J.D. Benson, "Development of a parametric optical constant model for Hg1−xCdxTe for control of composition by spectroscopic ellipsometry during MBE growth", Thin Solid Films 313–314, 137 (1998) CrossRef
S.S. Babu, R. Rajeswari, K. Jang, C.E. Jin, K.H. Jang, "Spectroscopic investigations of 1.06 μm emission in Nd3+-doped alkali niobium zinc tellurite glasses", J. Luminescence 130, 1021 (2010). CrossRef
H.W. Li, S.Q. Man, "Optical properties of Er3+ in MoO3–Bi2O3–TeO2 glasses", Opt. Comm. 282, 1579 (2009). CrossRef
M. Malinowski, Lasery światłowodowe (Oficyna Wydawnicza Politechniki Warszawskiej 2003).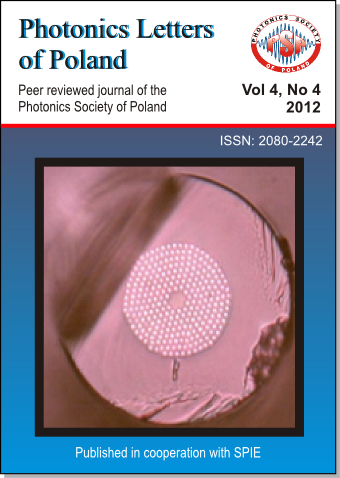 Downloads
How to Cite
[1]
M. Reben, B. Burtan, J. Cisowski, and J. Wasylak, "Spectroscopic properties of rare earth ions in tellurite glass", Photonics Lett. Pol., vol. 4, no. 4, pp. pp. 149–151, Dec. 2012.
License
Authors retain copyright and grant the journal right of first publication with the work simultaneously licensed under a Creative Commons Attribution License that allows others to share the work with an acknowledgement of the work's authorship and initial publication in this journal. Authors are able to enter into separate, additional contractual arrangements for the non-exclusive distribution of the journal's published version of the work (e.g., post it to an institutional repository or publish it in a book), with an acknowledgement of its initial publication in this journal. Authors are permitted and encouraged to post their work online (e.g., in institutional repositories or on their website) prior to and during the submission process, as it can lead to productive exchanges, as well as earlier and greater citation of published work (See The Effect of Open Access).