Optical IP network system using 16 wavelengths of Coarse WDM technologies and Layer-3 switch
Abstract
We have proposed and experimentally demonstrated an optical network system using 16 wavelengths of Coarse Wavelength-Division-Multiplexing (CWDM) technology and Layer-3 Switch. For keeping the speed of 1000Mbps at the bus IFs, CWDM technology is employed, and 16 wavelengths are allocated to 16 bus IF, respectively. The system consists of a gateway which contains a controller and a server to connect terminals and public providers. The optical IP networks can be scalable by adjusting the number of wavelengths and optical transceiver. We believe this novel scheme is a practical scheme to be applied for future broadband networks.

Full Text: PDF

References
Adel A. M. Saleh and Jane M. Simmons, "Architectural principles of optical regional and metropolitan access networks", J. Lightwave Tech., vol.17, pp.2431-2448, 1999. CrossRef
Jeremy De Clercq and Olivier Paridaens, "Scalability implications of virtual private networks", IEEE Comm. Magazines, vol.40, pp.151-157, 2002. CrossRef
A. Jourdan, D. Chiaroni, and E. Dotaro, "The perspective of optical packet switching in IP dominant backbone and metropolitan networks ", IEEE Comm. Magazines, vol.39, pp.136-141, 2001. CrossRef
B.St Arnaud, Jing Wu and B.Kalali, "Customer-controlled and -managed optical networks", J. Lightwave Tech., vol. 21, pp. 2804-2810, Nov 2003. CrossRef
M Hashimoto, A Ueno, M Taniue, S Kawase, O Koyama and Y Katsuyama, "Design and Control System for Regional CWDM Optical IP Networks with Reconfigurable Optical Add/Drop Multiplexers ", The 9th International Conference on Telecommunications, Zagreb, Croatia, 23-30, June 2007. CrossRef
M. Hashimoto, A. Ueno, M. Taniue, S. Kawase, O. Koyama, and Y. Katsuyama, International Journal of Innovative Computing, Information and Control, 4, No.6, pp. 1299-1313, 2008. DirectLink
 M. Hashimoto, O. Koyama, M.D. Nooruzzaman, and Y. Katsuyama, "Bi-directional lightpath reconfiguration in regional IP-over-WDM networks by a centralized control system", IEEJ Trans. Electrical and Electronic Engineering, vol.4, no.3 pp.425-434, 2009  CrossRef
 M.D. Nooruzzaman, Y. Harada, O. Koyama, and Y. Katsuyama, "Proposal of Stackable ROADM for Wavelength Transparent IP-over-CWDM Networks", IEICE Trans. Commun., vol.E91-B, no.10, pp.3330-3333, Oct. 2008.  CrossRef
S. Fujimoto, K. Tsujimura, S. Hayashi, J. Wang and Y. Katsuyama, in Proc. of 7th APCC, pp.9-12, Tokyo, Sept., 2001.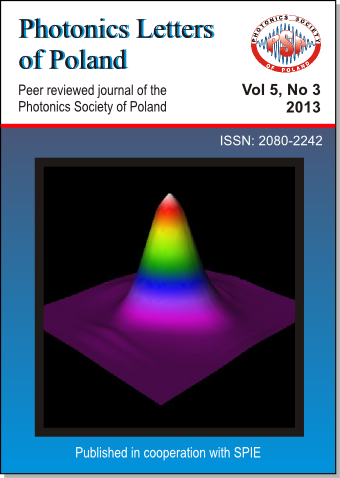 Downloads
How to Cite
[1]
V. H. Nguyen, A. Marsden, S. Fujimoto, and Y. Katsuyama, "Optical IP network system using 16 wavelengths of Coarse WDM technologies and Layer-3 switch", Photonics Lett. Pol., vol. 5, no. 3, pp. pp. 121–123, Sep. 2013.
License
Authors retain copyright and grant the journal right of first publication with the work simultaneously licensed under a Creative Commons Attribution License that allows others to share the work with an acknowledgement of the work's authorship and initial publication in this journal. Authors are able to enter into separate, additional contractual arrangements for the non-exclusive distribution of the journal's published version of the work (e.g., post it to an institutional repository or publish it in a book), with an acknowledgement of its initial publication in this journal. Authors are permitted and encouraged to post their work online (e.g., in institutional repositories or on their website) prior to and during the submission process, as it can lead to productive exchanges, as well as earlier and greater citation of published work (See The Effect of Open Access).