About the Journal
PSP Photonics Letters of Poland (ISSN 2080-2242) is a new peer-reviewed web-based, open-access journal published by the Photonics Society of Poland and co-sponsored by SPIE. Journal is also supported by the Ministry of Science and Higher Education of Poland in the frame of the project 699/P-DUN/2017.
Current Issue
Vol. 15 No. 1 (2023)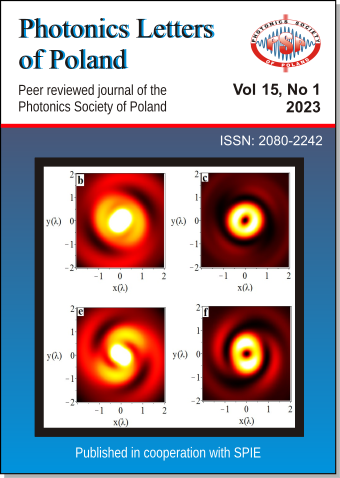 The current issue of Photonics Letters of Poland features papers related to various aspects of photonics, including: the design of  optical sensor for water turbidity to obtain precise water quality values without interference from outside light (unlike previous studies using conventional turbidity sensors); extraction and optical characterization of silica from reeds biomass in various annealing temperatures indicating a shift of the optical properties and dielectric functions towards longer wavelengths with an increase of annealing temperature; theoretical demonstration of the electric and magnetic energy densities and energy flux for radially variant vector beam focusing through a dielectric interface to generate novel focal structures for corresponding radial indices; the design of apodizer which significantly improves the performance of three-zone aberrated optical systems by increasing the intensity and suppressing the side lobes for higher degrees of defocus and primary spherical aberration thanks to application of specific amplitude filter.
View All Issues
The Photonics Letters of Poland is indexed in major scientific databases, including Scopus and Web of Science Emerging Sources Citation Index.
The journal covers the topical areas of optics, optoelectronics and photonics in the following aspects: fundamental and applied research, physics and technical, materials, components and devices, circuits and systems, technological and design, construction and manufacturing, and metrology.
Photonics Society of Poland encourages the prospective Authors to publish the results of their research and technical work in the new, peer-reviewed, rapid Internet journal Photonics Letters of Poland.
The Advisory Board of the Photonics Letters of Poland is composed of Polish researchers active in optics and photonics, whereas the International Advisory Board groups prominent international experts and scientists in the field.
Members of the International Advisory Board:
Gaetano Assanto, University of Rome "Roma Tre", Italy
Wojtek Bock, Université du Québec en Outaouais, Canada
Román Castañeda, Universidad Nacional de Colombia Medellin, Colombia
Brian Culshaw, University of Strathclyde, United Kingdom

Vladimir G. Chigrinov, Hong Kong University of Science and Technology, Hong Kong
Gerald Farrell, Dublin Institute of Technology, Ireland
Ari T. Friberg, Royal Institute of Technology, Sweden

Wiesław Królikowski, Australian National University, Canberra, Australia
Kristiaan Neyts, Ghent University, Belgium

Peter Palffy-Muhoray, Kent State University, USA
Philip St. John Russell, Max Planck Research Group, Germany

Giancarlo Righini, National Research Council, Roma, Italy
Bouchta Sahraoui, Université d'Angers, France
Ping Shum, Southern University of Science and Technology, China
Hugo Thienpont, Vrije University Brussel, Belgium
Tomasz R. Woliński, Warsaw University of Technology, Poland
Shin-Tson Wu, University of Central Florida, USA
Maria J. Yzuel, Autonomous University of Barcelona, Spain

Southern University of Science and Technology (SUSTech)